Related Media
Many ABC Owned and Operated stations still require the 'CIRCLE SEVEN' pin to be worn by every reporter and anchor.
Such stations include WABC-TV and KABC-TV: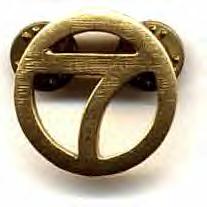 ---
The Circle Seven theme has made its way all throughout KABC-TV. As you will see, the KABC-TV logo has a circle seven. The abc7 logo is one of the best ones in the Los Angeles market.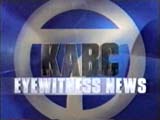 >>This is the original ABC7 logo, before attaching the abc circle to the circle 7.<<
---

>>Late 1990's abc7 logo, when the faded blue abc circle was added along with the circle seven logo.<<
Here's another version of the same logo as above:

---
This is today's current ABC7 logo, with a black and white abc circle, and a refined, bluer circle seven circle: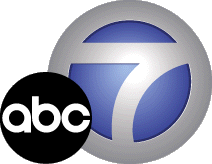 ---
The following images are alternate uses of the abc7 logo; they are from websites and the Eyewitness Newscast.




---
Here are some early logos of KABC-TV's station IDs: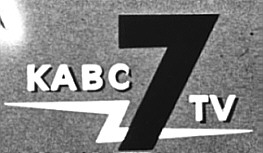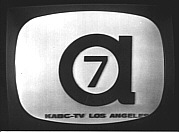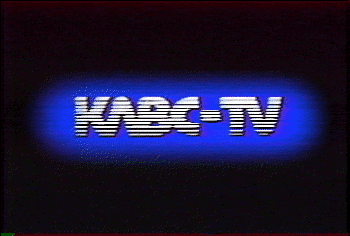 ---
Take your pick:
View ABC7LA's Guestbook
Sign ABC7LA'S Guestbook
---
Advertisement:
Plot your route with precision, with the ABC7 Traffic Center, only on abc7.com.

---
TELL ME WHAT YOU THINK:
---
GET MORE: NEWS AND WEATHER QUICK AND EASY!
---
Before anything, meet the faces of the Eyewitness News Team.
---
Take a look at the Eyewitness New Room and the ABC7 Broadcast Center.
---
Watch some of KABC's earliest newscasts of the 1970s at the MULTIMEDIA webpage.
---
Learn How the EYEWITNESS NEWS format changed the way America looks at broadcast news forever. <Courtesy of Eyewitness Network News>
Eyewitness News is the oldest local newscast in the United States. Some broadcast professionals say that the "Eyewitness News" title alone was first used in stations like San Francisco or Cleveland. However, the format actually began at KYW-TV in Philadelphia in August, 1965. Albert T. Primo, a young news director, came up with the title when his news program was second place in the ratings.
Primo looked at the AFTRA (radio and television union) contract and noticed a clause in the contract that stated, "You made use anyone working in the newsroom, and being a member of AFTRA, on the air without paying additional compensation." This means the union didnít want to pay a fee to anyone working in the newsroom to appear on-camera.
Local news in the 1960ís was done by an anchorman, a sportscaster, and a weathercaster. There were no reporters on television and the very reason for that is the union would have to pay them. Primo came up of an idea of creating televisionís first "beat system", similar to the print press, where reporters would go out on the scene to cover the news and deliver their reports on the set next to the anchorman. For example, the anchor reads his script of a news story, then introduces the reporter who covered the story and after the film package, the anchor would ask the reporter a question about the story afterwards.
It was a very simple concept that had never been done before in television news, but the anchors at KYW who were Tom Synder and Vince Leonard were against Primoís idea saying, "Weíre not going to be news jockeys!" Eventually, Primo convinced them that the idea would be a better information format because of the reporter sitting next to the anchor with the "eye on the scene" news package that elevated the importance of a particular story. The reporter would start by saying, "I was there in the county jail where John Doe was arrested for shoplifting. Hereís what happened..." The viewer would see them as an "Eyewitness" to this event.
In September 1968, Primo took the "Eyewitness News" format to WABC-TV in New York where "Channel 7 News" was the lowest rated newscast on television. WNBC-TV and WCBS-TV, with their "if it ain't broke, don't fix it" mantras, never brought the "eye on the scene" concept to their newscasts because they were the most watched among New Yorkers.
Before Primo took the job, the WABC-TV news operation was a complete mess. The producer, director and the writers would hold a poker game every afternoon at 3:00PM and the show would supposedly come together by magic. The format changed every n ight. One night it would be headlines and no music and then the other way around. WABC-TV had over ten news directors in a five year period and Primoís new job was convincing the showís "names" to submerge their egos and go for a "team" effort. So Primo designed an upgraded version of his "Eyewitness News" for WABC-TV. He did the whole shot - set, talent, "Cool Hand Luke" music, and graphics - in about 8 weeks. On November 17th, 1968, "Channel 7 Eyewitness News" was born.
It took a year to get to the top. Primo's concept was totally different than the one he did for Philadelphia. He hired newcomer ABC News correspondent and former KGO-TV anchor and News Director Roger Grimsby as his star anchor and the talent was referred to Primo as his "Eyewitness News Team" - a title still used by WABC-TV today. The original "Eyewitness News Team" was Tom Dunn, Melba Tolliver, Howard Cosell, Tex Antione, Rona Barret, John Schubeck, Milton Lewis, Dell Wade, Bob Miller, Bill Aylward, Bob Lape, Gil Noble, and John Bartholomew Tucker. Another reporter, Doug Johnson, was added in 1969. The "team" wore blue blazers emblazoned with a gold "Circle 7" logo on the left breast pocket and every one of the talent had a different image, much like a cast of characters. Milton Lewis' role was an Investigate Reporter - tough but fair. Rona Barret was an Entertainment Reporter - had all the gossip on the stars in the movie industry. The newscast was produced at "Studio 7" at the ABC7 Broadcast Center on West 62nd Street and remained there until the move to 149 Columbus Avenue or 7 Lincoln Square in 1980.
Primo also added a new concept that is still being used today. It is called "happy talk." This consists of news anchors or reporters chit chatting and joking with one another while on the air. The concept was created to take away from common stiffness of news. In a book called "The Newscasters", by Ron Powers, the author quotes a typical exchange between WLS-TV weatherman John Coleman and the anchormen of "Eyewitness News" in Chicago:
Joel Daly: Well, what kind of cat and mouse games do you have for us in the weather, John?
Coleman: Iíd be willing to discuss the weather, Joel, if I knew that nursery rhyme. "Ding dong bell&ldots;"
Daly: "Pussyís in the well."
Daly: I donít remember the other&ldots;
Coleman: I never heard that nursery rhyme did you, Mike?
Mike Nolan: Oh, yeah. I heard it.
Daly: Thatís right. "Who put him in."
Coleman: Who?
Daly: Little&ldots; Johnny&ldots; Coleman! (general laughter in the studio)
Coleman: Aw. Now cut that out. Well, Iím sure weíre not experts on nursery rhymes, but I am reasonably well informed meteorologically at this moment, and a one word comment would be, YAH-HOOOOO!
This seems generally funny, but it has drawbacks. "Happy Talk" could make viewers get very angry when it comes to joking about a very serious news story. For example, in December, 1976 WABC-TV weatherman Tex Antione remarked on rape on the evening newscast. The incident occurred when anchorman Roger Grimsby read an item about an attempted rape of an 8-year old Bronx girl.
Grimsby: Now with the weather, here is Tex Antione.
Antione: You know Roger, with all the stories about rape in the news. I can only tell you the words of a great Chinese philosopher. Confucius said. "If rape is inevitable, relax and enjoy it."
After the remark, the ABC station received hundreds of phone calls from women demanding that Tex should be fired. WABC officials agreed and it was over with, or so they thought. Five days later, Roger Grimsby introduced Mr. Antoineís replacement by saying "Lie back, relax, and enjoy the weather with Storm Field." Thus again, angrier phone calls...
"Channel 7 Eyewitness News" in the 1970ís would never be "Eyewitness News" without the style of Roger Grimsby. Grimsby was a true New York legend. Next to Jim Jensen, Roger had a commanding delivery and acerbic wit. In the early beginning Roger had a series of anchors next to him. The chemistry wasnít working until in 1970 when Primo re-hired Bill Beutel, who left WABC-TV in 1968 for a job as an ABC News correspondent in London, and paired him with Grimsby. The chemistry worked for the next 16 years on camera. Off camera it was totally different. Grimsby and Beutel never got along and were always fighting with each other. Beutel said in an interview that they would fight over just about anything, but at the end of the day, they were the best of friends.
The 70ís were also an open door for WABC-TV and "Eyewitness News." Primo wanted an urban type of news reporting and reporters who knew New York City. Sex and race relations were key issues of the urban image. In 1970 Primo began to search for a Latin, bilingual news reporter that would help conducting more interviews in Spanish neighborhoods. He tried to lure WCBSí only Latino news reporter, Gloria Rojas, to work as the teamís first female bilingual news reporter, but she was happy with Channel 2. She did, however, refer a lawyer who would be perfect for the job. With Rojas encouragement, Jerry Rivers applied for a job and was hired immediately. Jerry changed his name to Geraldo Rivera and served as the stationís first bilingual news reporter. Rivera became an instant success when he exposed the conditions of Willowbrook, a Staten Island mental treatment facility. Rivera invented a style, called commando raids, to inspect inside the facility. Eyewitness News ran a record breaking seven minutes of the report on the 6:00PM broadcast and did follow-ups of the report plus a 90 minute documentary for ABC News.
Primo also hired reporters when they were part of a story. For example, in 1974, a story ran about welfare and the reporter interviewed a lady who worked for the New York State Department of Welfare. Primo's eyes lit up wanted to hire her for a job as a news reporter. He succeeded in hiring Roseanne Scamardella.
Other news reporters were hired in the 1970ís who later became network or popular television journalists. Among them were Joan Lunden, Frank Gifford, Bill Bonds, Jim Bouton, John Johnson, Gary Essex, Tracy Egan, Josh Howell, Felipie Lunciano, Joel Siegel, Roger Sharp, Larry Kane, Penny Crone, and many others.
Now, almost 40 years after Primo came to WABC-TV, "ABC7 Eyewitness News," continues to lead the New York market in news ratings. Although it receives stiff competition and is pushed to second place in some time periods by rival WNBC, viewers are still attached to the original "Eyewitness News."

(Courtesy of http://groups.yahoo.com/group/lanews)
Copyright © 1999-2003 TEQBOY Unlimited Designs
This Website is part of the TEQBOY Community of Websites