SOME PICTURES ARE EXCLUSIVELY BROUGHT TO YOU BY ABC7LA.TRIPOD.COM
The news desk on the page is used for Eyewitness News @ 5 and 11 pm. There is one other news desk, used for the 5-7 am, & 4 and 6 pm newscasts. However, I currently don't have pictures for it...yet!
Click each picture for a detailed description of the Eyewitness News set...the page will load in this same window. A new page will not open up!
This picture below, on the left, will help visualize the news desk from the anchor's point-of-view. Note the TV monitors that are built-in to the news desk. Each anchor gets his and her own with an individual keyboard. The picture on the right, when you click on it, will give a different look of the news desk just describe for the picture on the left.
The picture below is Marc Brown and Laura Diaz back in the day before she left. As you can see, the news set hasn't changed much for ABC7. Consistency is key to keep a viewer coming back to channel 7 for their news. Note that even today, the black microphone on the front of the desk hasn't moved at all!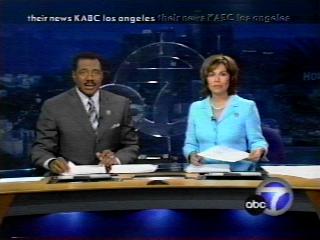 >>OF COURSE THERE ARE MORE PICTURES TO LOOK AT...GO TO THE EYEWITNESS NEWS STUDIO TO SEE EXCLUSIVE PICTURES OF STUDIO 59 WHERE EYEWITNESS NEWS IS PRODUCED. YOU CAN SEE PICTURES OF THE TELEPROMPTERS, ABC7 BROADCAST CENTER AND THE NEWSROOM.<<
SOME PICTURES ARE EXCLUSIVELY BROUGHT TO YOU BY ABC7LA.TRIPOD.COM