UNFORTUNATELY, THE WEBSITE THAT HAD THE PICTURES OF THE ABC7 EYEWITNESS NEWS STUDIO IS TEMPORARILY DOWN.
IN THE MEANTIME, CHECK OUT THE HISTORY OF EYEWITNESS NEWS RIGHT HERE!
But, here's a tease!

Notice that these teleprompters are probably the same ones as shown above; also,

The flow of information is critical to any successful news operation. Space design and layout are critical to effective information flow. When the management of Los Angelesí ABC affiliate, Channel 7, decided it was time to update their news facilities they were faced with a daunting design challenge.
The design goals included optimizing the design for effective information flow, the newsroom would often be on camera, so it had to convey a sense of style and professionalism, and it had to accommodate a variety of new technologies. Using two dimensional artistís renderings of the proposed spaces did not yield very good feedback and not much enthusiasm. Ultimately, the expertise and tools of ArchVision were used to create highly effective 3D models and a virtual newsroom tour, allowing the client to make the best decisions possible. Now ABC7 has one of the true showpieces in the industry, a space that meets their needs for practicality, effectiveness, and style.
My opinion: The ABC7 Eyewitness News Room is the best in the Southland. When it is compared to NBC4 and CBS2, ABC7 has the best format/layout that even the viewer can sense. Whenever the station has a reporter do a story lead-in or an anchor promos the news between commercials, the newsroom is the place to do it. In future updates, ABC7LA will provide video clips showing you inside the Southland's #1 News Station.
---
Here are some rare photos of the ABC7 BROADCAST CENTER in Glendale, CA:
(courtesy of http://www.hathawaydinwiddie.com/projects.asp?chvPageName=technology&iPageNum=5)
The picture on the left is the ABC7 Eyewitness News Control Room. Notice that the expensive chairs are similar in the "virtual" newsroom pictures up above on this web page. The picture on the right is the ABC7 Broadcast studio. 150,000 SF state-of-the-art television broadcast news facility and technical suites including two new studios at 8,000 square feet each. Click each picture for a larger view.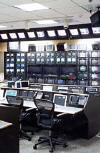 ---
These are EXCLUSIVE pictures brought to you by ABC7LA:
Copyright © 1999-2003 TEQBOY Unlimited Designs
This Website is part of the TEQBOY Community of Websites
View ABC7LA's Guestbook
Sign ABC7LA'S Guestbook
---
Take a look at the evolution of the ABC7 Circle Seven Logo!
---
Meet the people behind the camera: The Eyewitness News Team
---
Don't like pictures? Watch an Eyewitness News video clip: MULTIMEDIA
---
>>RELATED WEBSITES<<
---
Two helicopters are used to bring LIVE BREAKING NEWS to ABC7...take a look!
---
Comprehensive ABC-TV Network coverage...
---
"Mom," Amber asked, "how old are you?"
"You're not supposed to ask a woman her age," her mother replied. "It's impolite."
Later Amber told a friend about the exchange. "Just take a look at her driver's license," the friend suggested. "It's like a report card for adults. Everything about them is on there."
That evening Amber said, "Mom, you're 35 years old."
"How did you know that?"
"And you weigh 125 pounds."
"How did you find that out?"
"And that's not all," Amber went on triumphantly. "I know why you and Daddy got a divorce."
"Really! Why's that?"
"Becuase you got an F in Sex."
---
Do you have pictures that you could share with ABC7LA? Please email me!
---
America's Broadcasting Company: Complete Coverage here.
---
"Persistance trumps talent and look every time"
--Aaron Brown in O: The Oprah Magazine
---